The Food Sovereignty Program
Roots for Equity has been a strong proponent of food sovereignty and believes that this framework is the most powerful collective response by small producers in rebutting the impacts of free trade and a cohesive alternate to Globalization.
In this context, the organization has taken a number of initiatives with the goal of making food sovereignty the framework for rural and agricultural development for the small and landless farmers in Pakistan. The most critical step for achieving this objective was organizing farmers so that a mass-based alliance of small and landless farmers may be formed; Roots had actively engaged with other progressive organizations across the region to develop material and modules that would facilitate grass root political and social activists engagement with communities.
A key principle of food sovereignty is structural change in society is only possible with the leadership of small producers; therefore Roots for Equity's initial efforts were to work with small farmers to build a critical analysis of the socioeconomic and political conditions of farmers; many study programs were conducted in the villages across the country. The end result of these efforts was the formation of a mass-based organization, namely the Pakistan Kissan Mazdoor Tehreek (PKMT) representing small and landless farmers. The PKMT membership includes both men and women farmers from across the country.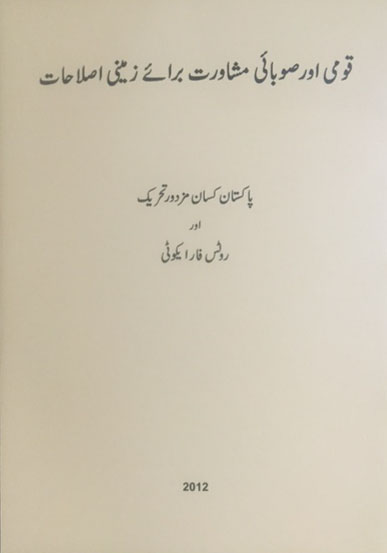 Many of the key areas critical for creating a broad awareness and acceptance for food sovereignty are now being jointing pursued by Roots for Equity and PKMT. Of these, of course an equitable distribution of agriculture land is of vital importance. It was PKMT that took the position that it did not want land reform: for them that was maintaining the political and economic power of the feudal elite and instead they demanded just and equitable distribution of land. Taking its lead from the mass-based broad alliance of small farmers, Roots for Equity also advocates for this position, which no doubt is one of the mail fulcrums of food sovereignty.
As part of the food sovereignty program Roots for Equity has also developed a broad campaign on seed sovereignty, contesting corporate hegemony over seed embedded advocated by the Trade-related Aspects of Intellectual Property Rights (TRIPs) Agreement of the World Trade Organization (WTO). At the policy level, the organization has denounced Pakistan Amended Seed Act 2015, asking for seed laws that promote the rights of small farmers rather than agro-chemical TNCs.
At the same time, in conjunction with small farmers, Roots has set up small trial farms to be able to nurture and grow local and indigenous seeds, especially for grains.
Of course seed banks can only be real if they are entrenched in the practices of agroecology. So, for ensuring that Pakistani indigenous and local seeds are maintained as a collective property of farmers, PKMT has taken the lead – its members are now maintaining seed banks and ensuring that wheat, rice and vegetables seeds are grown not only for their own seed use but for exchange among farmers in the community and the wider PKMT community.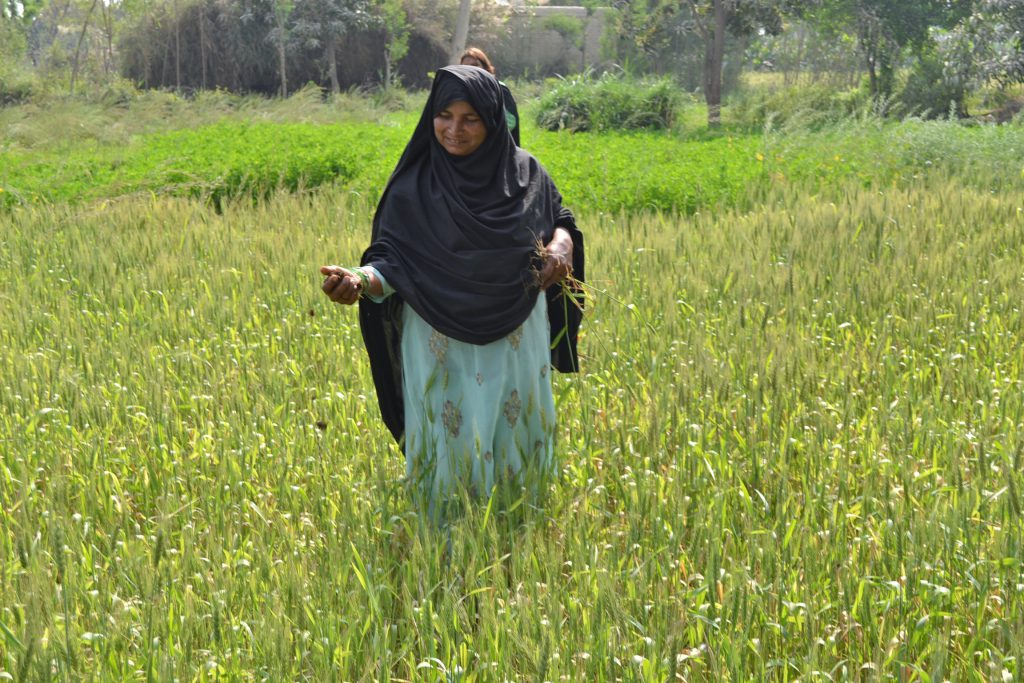 These publications include two Urdu quarterly magazines called Challenge, and Hal Ahwal. Challenge covers a wide spectrum of issues connected to sustainable development and in particular to rural and agricultural development. Hal Ahwal is a resource publication and is the transcribed quarterly chronological documentation of mostly agriculture and rural development, and climate change news from chosen mainstream daily English newspapers in Pakistan. The context is to provide grass root activists easy access to the rapid incursion of neoliberalism in Pakistani sustainable and agricultural development policy and farmlands, the impacts and the forms of resistances that are happening on the ground. As much of the grass roots activists and of course our farmers are not able to read English much of the current policy development and implementation, especially in the context of rural development policy does not reach them. The mainstream context of agricultural development now advocates for chemical fertilizers, pesticides and now even more and more genetically engineered seeds.